TimeLines Haiku Primer
Learn the basics of TimeLines for iPhone
while enjoying five haikus.

"TimeCodes" are codes
that you will capture time on
...and report against.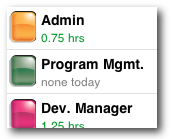 We call this a "Bar".
It marks the start of time spent
working on a task.



This is a "Hashmark".
Tap one to add a new Bar
when you start a task.



"Shades" are time entries.
They fill in between two bars
to show working time.



Pick a TimeCode, then
tap a Hashmark to add new Bars.
Shades fill in for you.


To get Cronologic TimeLines,
click here to visit the App Store.

Watch a video explaining TimeLines (YouTube).

© Copyright 2002-2010 by Cronologic Inc. — "CRONOLOGIC" is a Trademark, the property of Cronologic Inc